You are one click away from great putting.
You are one tap away from
great putting.
See how any putt will break on any green anywhere with *Slopegraide AR, our game-changing augmented reality green reading app.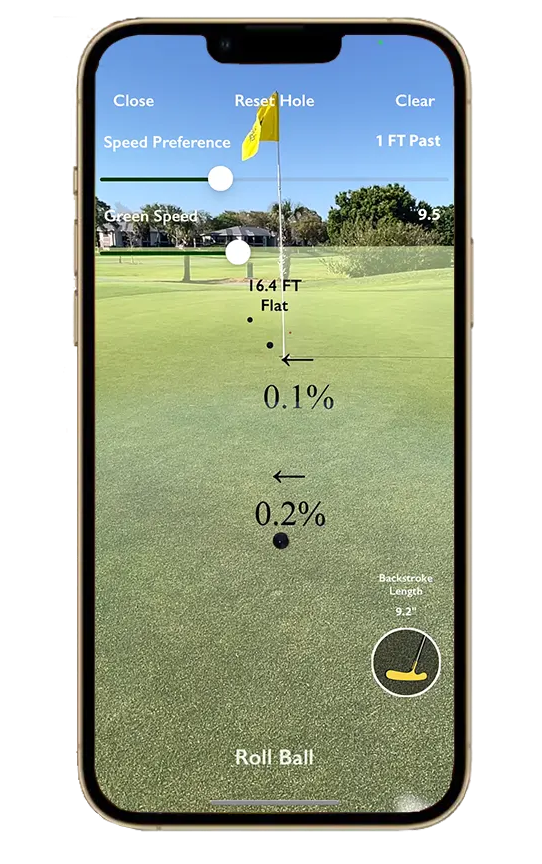 * Slopegraide AR requires a paid in-app subscription and an iPhone or iPad device with a LiDAR scanner

We have everything you need to putt well.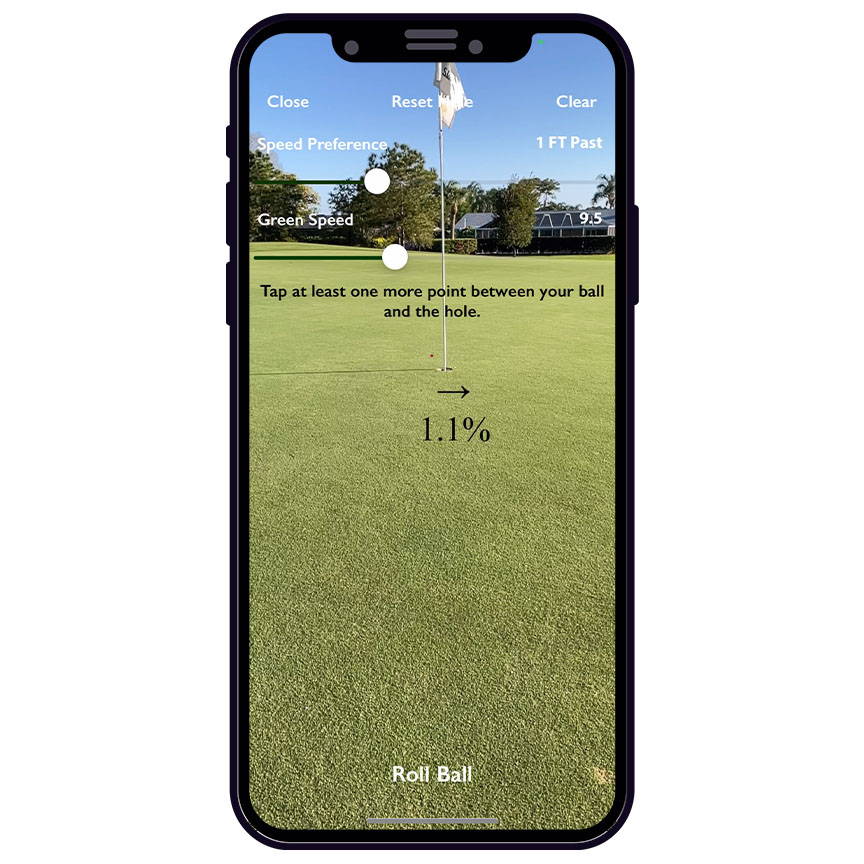 INSTANT SLOPE
CALCULATION

Get any slope measurement in real-time along your putt line with a single tap.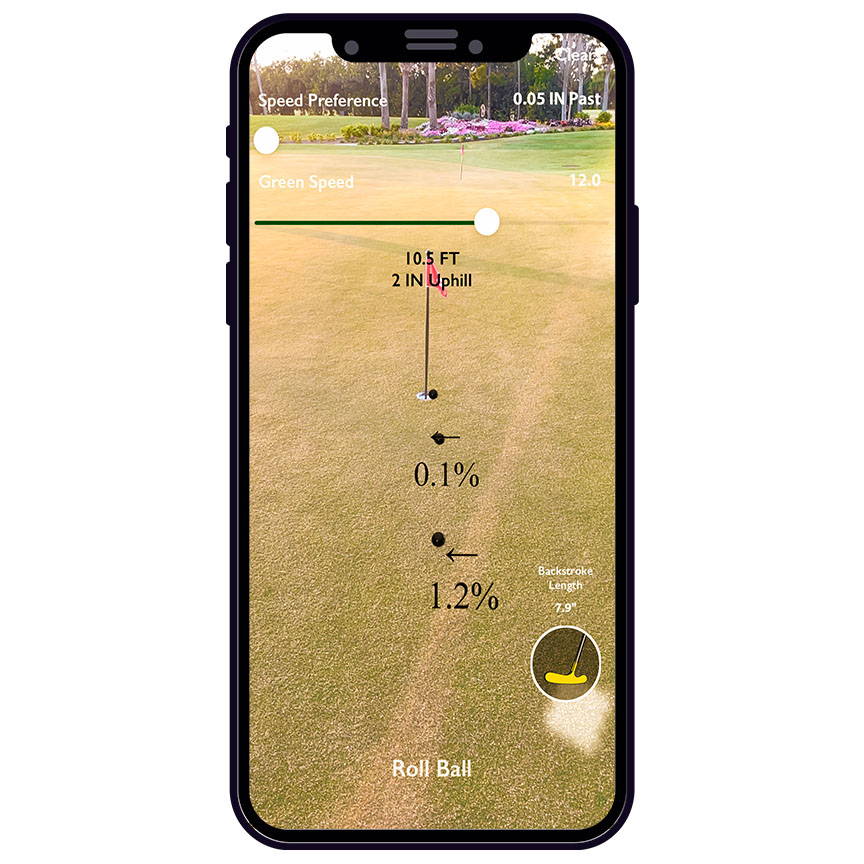 Roll as many virtual balls as you need to clearly see how your putt will break.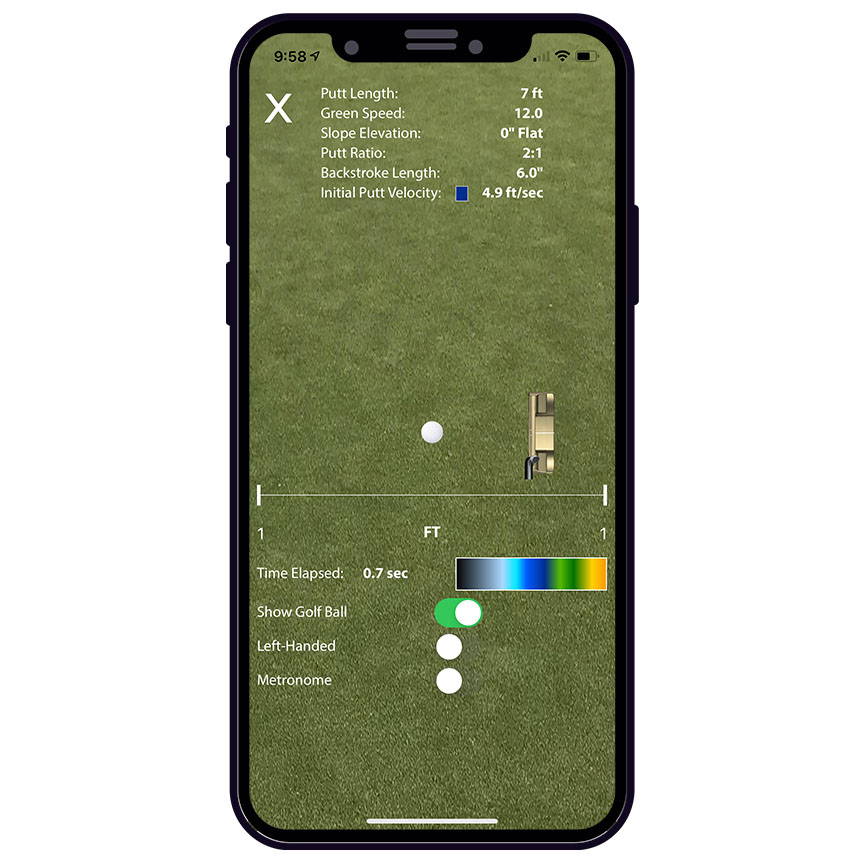 RECOMMENDED
PUTTING STROKE

Always hit putts at the perfect speed using our visual putting stroke model.
WATCH SLOPEGRAIDE AR IN ACTION
Download the Slopegraide app and start your free trial today.

FREQUENTLY ASKED QUESTIONS
Is Slopegraide AR legal for tournaments?
No. Slopegraide AR has the ability to calculate slope measurements on the green, which goes against the rules on equipment in the USGA Rules of Golf. Slopegraide AR was designed to be used for as a training aid for practice and recreational rounds of golf only.
Do I need a specific iPhone to use Slopegraide AR?
Yes, Slopegraide AR requires the use of the LiDAR scanner built into select iPhones and iPad Pros, which is currently available with the following devices:

iPhone 12 Pro
iPhone 12 Pro Max
iPhone 13 Pro
iPhone 13 Pro Max
iPad Pro (2020 or later)
Is Slopegraide AR available for Android?
No. Slopegraide AR is an exclusive feature only available in the Slopegraide iOS app.
Do I need a subscription to use Slopegraide AR?
Yes, Slopegraide AR requires a paid Slopegraide Premium in-app subscription, which can be purchased within the Slopegraide app.
How much does a Slopegraide Premium subscription cost?
There are three different pricing options for a Slopegraide Premium subscription in the Slopegraide app:


*Includes 7-day FREE trial
The first option is a monthly subscription for $9.99 USD per month.

The second option is a yearly subscription for $99.99 USD per year.

An annual subscription provides unlimited access to all features in the Slopegraide app for 1 year, including Roll Maps™, our color-coded putt speed charts that are legal for tournament play! You will get a 7-day FREE trial when selecting this option.

The third option is a LIFETIME subscription for $499.99 USD.

A lifetime subscription provides unlimited access to all features in the Slopegraide app for LIFE!
Competitive Amateur Golfer
Creator of Slopegraide and Roll Maps
As a competitive amateur, it is important to prepare for success on the golf course and have tools that will provide me a competitive advantage.
We created the Slopegraide app to simplify the complex art of green reading and help golfers make more putts and lower their scores.

Our mission is to provide solutions and technologies to help golfers of all backgrounds create self-confidence, trust, and joy in their game.

We are a veteran owned small business based out of Melbourne, Florida.





As a pro freedom company, we believe that golf is meant to be enjoyed by all who play this great game. We do not discriminate anyone based on their sex, gender, race, religion, orientation, age, or vaccination status.
SUBSCRIBE TO OUR NEWSLETTER
Receive our latest releases, special offers, guides, and more.