Our team is committed and dedicated to our mission to provide solutions and technologies that help golfers of all skill levels build trust and confidence in their green reading and putting so they can create results.  As golfers ourselves, our purpose is to be in service to the game and always looking for new opportunities to increase participation and enrich the enjoyment and performance of golfers.
​We are a veteran owned business based in Central Florida and all of our Slopegraide units are built, assembled, and tested here in the United States of America. 
Meet the Creators of Slopegraide
Jeff Mocini
Founder/Creator
Bachelors of Science in Computer Science
University of Findlay; Findlay, Ohio
Competitive Amateur Golfer
Handicap: +1.5
​Fun Fact: He shares a birthday with Tiger Woods!
Rachel Mocini

Mechanical Engineer

Bachelors of Science in Mechanical Engineering
University of St. Thomas; Saint Paul, Minnesota
U.S. Air Force Veteran
​
Handicap: N/A (she prefers mini golf!)
​
Fun Fact: She is passionate about working with space missions launching from Cape Canaveral!
The Slopegraide Story
"I remember how frustrated I was one day at a tournament after missing every single birdie putt I looked at on the low side of the hole.  
I was hitting the ball really well and hit 15 greens in regulation, but I lacked confidence and trust with my ability to read greens.  I didn't make any birdies and had three 3-putts and shot 75.
I went to the practice green immediately after my round to work on my green reading, but I felt silly moving a digital level around from spot to spot.
I kept thinking as I kept bending over to move the level that had to be a way to make this process quicker and easier.  In that moment, the idea of Slopegraide hit me."
Jeff Mocini
Founder / Creator of Slopegraide
Competitive Amateur Golfer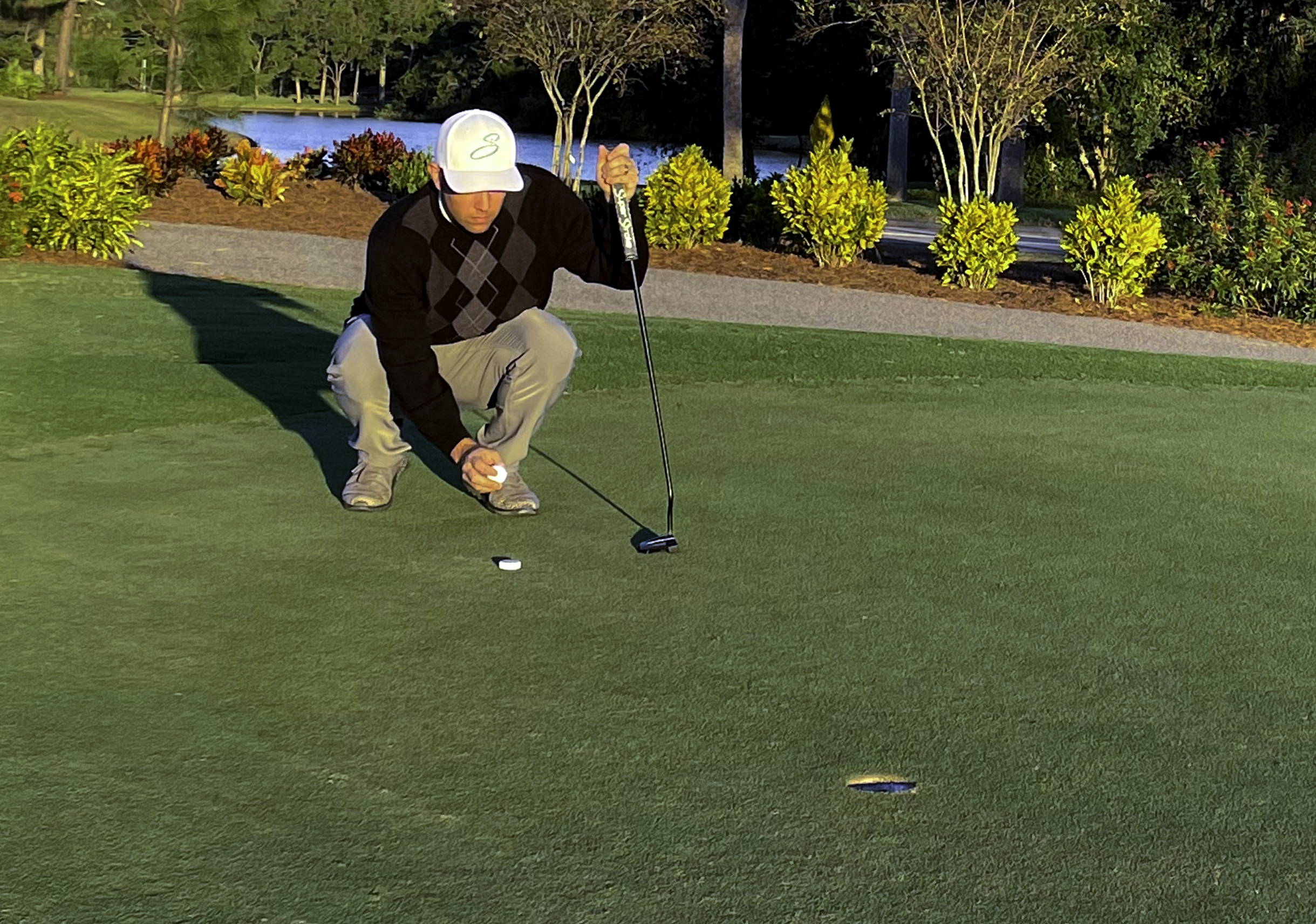 Anyone who has played golf knows the frustration of misreading putts all day on the green.  Distance rangefinders and other GPS technologies help get you from tee to green, but once you're on the green, you're on your own.

We recognized there was a missing piece in golf technology that needed to be addressed.

In understanding the challenges of green reading, we've combined mechanical and software engineering talents to create an easy-to-use training aid that will accelerate your growth and development in green reading. 

With you, the golfer in mind, we created Slopegraide, a smart green reading ball marker.



Slopegraide uses physics and geometry to display a recommended start line in real-time on your iPhone, iPad, or Apple Watch that shows you where to aim any putt you have inside 30 feet, like a distance rangefinder.


This information will help you eliminate the self-doubt and guesswork with how your putt will break and roll on the green, so you can make a natural putting stroke and hole more putts, lower your scores, and take your game to the next level!